Scrap Metal Baler
We promise that we are the factory, your scrap metal baler machines purchased from our factory, as long as you encounter any problems, we will be responsible until the problem is solved perfectly.
*Factory direct sales to more than 70 countries.
*18 months warranty period.
*Excellent engineers online guide the installation.
*Free training for our customers.

Application for scrap metal baler machine:
The horizontal hydraulic scrap metal balers are applicable in steel plants, recycling companies, ferrous& non-ferrous smelting industry to press metal scraps ( steel, copper, aluminum, stainless steel, discarded automobiles).
Metal baler not only it could save transportation costs, but also it could short feeding time .This model hydraulic metal baler is installed in steel plant, metal recycling plant, ferrous and non-ferrous metal melting plant.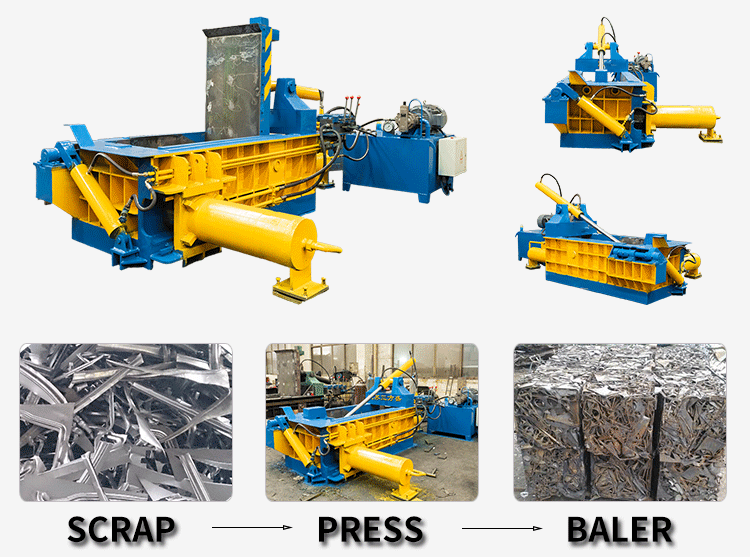 Features of metal baler:
1. All of the metal baler models choose hydraulic driving, it could choose manual operation or PLC operation.
2. Discharging of metal baler mode could choose Turn-out type, Forward-out type, Push-out type, and discharging by man-hand.
3. It isn't necessary to install with foundation bolt. If power isn't available, diesel engines of metal baler could be closed.
4. The Main cylinder extrusion force of metal baler is from 100 tons to 1600 tons. Productivity of metal baler is from 4 tons to 40 tons each shift.
5. Press box size and bale size could be designed and made according to the customers' requirements for metal baler.
6. Hydraulic pump, valve, and electric parts choose Chinese famous brand.
7. Our hydraulic cylinder has passed through BV certification, they have a long lifetime.
Metal baler models from 63 tons to 1600 tons, can meet the needs of different customers, in addition Di Hai Machinery supports customization: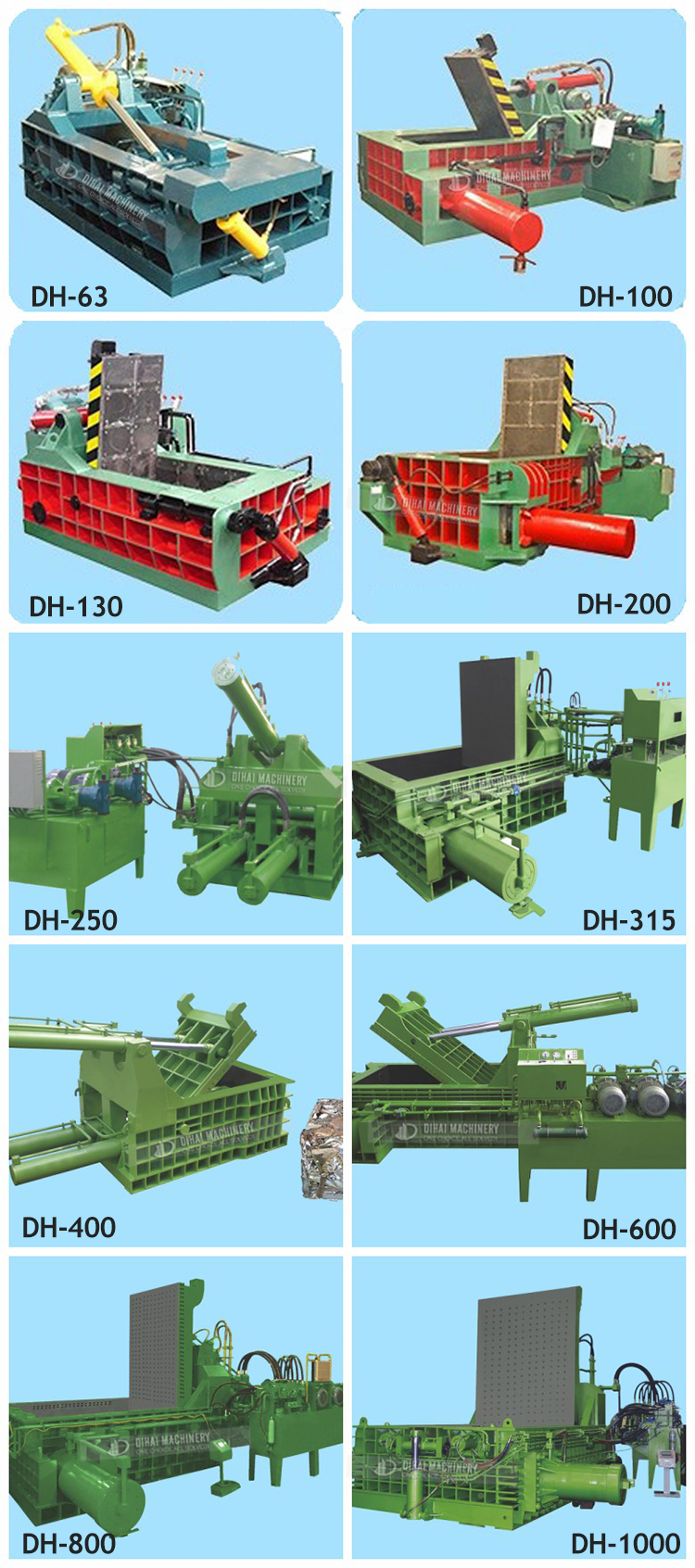 The metal baler can squeeze all kinds of scrap metal scraps (steel shavings, scrap steel, scrap aluminum, scrap stainless steel, and scrap car scrap, etc.) into rectangular, octagonal, cylindrical, and other shapes. Not only can reduce transportation and smelting costs, but also increase the speed of the furnace. This series of balers is mainly used in steel plants, recycling processing industries and non-ferrous and ferrous metal smelting industries.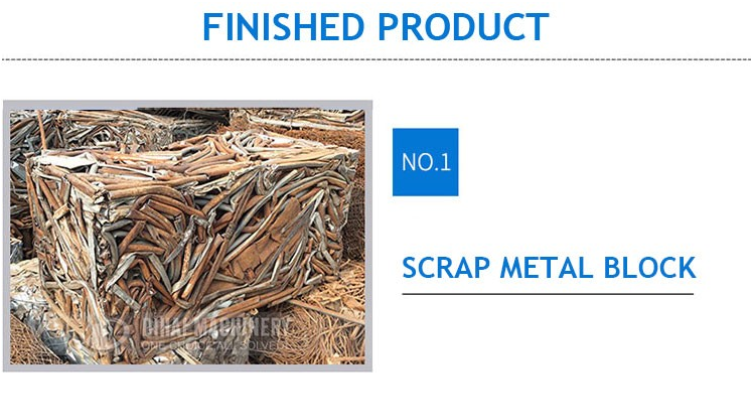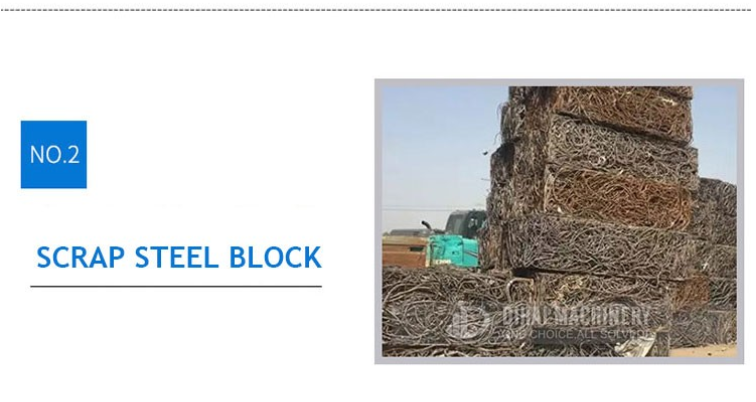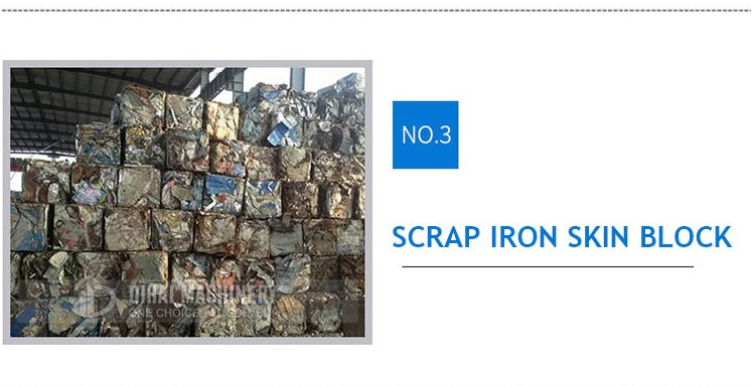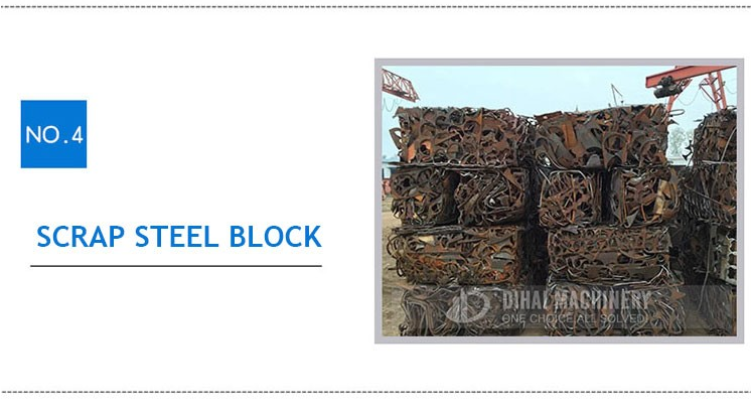 1. The product testing has quality records and testing data.
2. Product performance testing, there is a professional inspector, after the metal baler is confirmed to be qualified before shipment, we also support third-party inspection.
1. In order to ensure the metal baler quality, all raw materials are strictly controlled.
2. Under the same competition conditions, our company will provide you with the factory wholesale price on the basis of not reducing the technical performance of the product and changing the product parts.
1. Metal baler delivery time: Usually 7 working days. If there are special requirements for metal baler, we try to meet them.
2. When the metal baler is delivered, our company provides the following documents to the user:
Metal Baler Technical Maintenance Manual
Metal Baler General Installation Drawing
Metal Baler Purchased Parts Manual
Provide wearing parts, spare parts list, and extra spare parts.
1. Purpose of service: fast, decisive, accurate,
2. Service target: Service quality wins customer satisfaction
3. Service efficiency: If the metal baler fails during or after the warranty period, we will provide a solution within 12 hours after receiving the notification.
4. Service principle: The warranty period of metal baler is one year. During the warranty period, the supplier will repair and replace the parts that are caused by quality for free, and the parts and components damaged outside the warranty period will only be charged for the costs.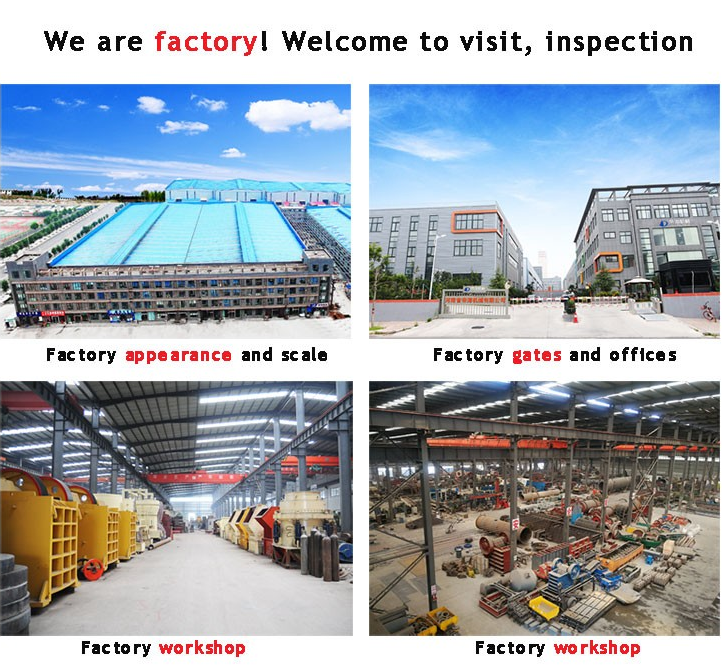 Henan Di Hai Machinery Co., Ltd.was founded in 2000 and covers an area of 20,000 square meters. The employees all of 300, including more than 200 professional technicians, exceed 50 engineers. We have about 20 sets of large and medium-sized modern processing and assembly equipment.
We have got a certificate ISO9001:2000 and passed the SGS test. and with the CE certificate, At present, our products are popular at home and abroad.
Holding high-quality products and honest operations as tenets, we have developed international markets very well, such as Russia, Southeast Asia, Central Asia, Mid-East, South Africa, America, etc, more than twenty countries and regions.
The structure we designed is advanced and compact. According to your site and capacity, we can provide you reasonable design with factory prices.
Our professional installation team has rich experience to complete the installation, commissioning fast, and also to train workers on how to operate, maintain the equipment.
We accept an 18+ month warranty (PS: other factories are 8 months or 12 months warranty); if there is a problem with the quality of our products, we will bear all the costs.
If you have any suggestions or opinions about our products,please leave a message,and we will immediately answer your questions. Thanks for your support.