Metal Scrap Baling Press Machine
We promise that we are the factory, your scrap baling press machines purchased from our factory, as long as you encounter any problems, we will be responsible until the problem is solved perfectly.
*Factory direct sales to more than 70 countries.
*18 months warranty period.
*Excellent engineers online guide the installation.
*Free training for our customers.

Metal Scrap Baling Machine Application:
The horizontal hydraulic scrap baling machine are applicable in steel plants, recycling companies, ferrous& non-ferrous smelting industry to press metal scraps ( steel, copper, aluminum, stainless steel, discarded automobiles).
Di Hai Metal Scrap Baling Press Mahine not only it could save transportation costs, but also it could short feeding time .This model hydraulic metal baler is installed in steel plant, metal recycling plant, ferrous and non-ferrous metal melting plant.
Working principle of metal scrap baling press machine:
The metal scrap baling machine mainly utilizes the nature of metal deformation of metal materials under the action of external forces, giving the metal materials sufficient external force to compress the metal into blocks. During work, the packed materials are placed in the material box of the scrap baling machine, and the hydraulic oil cylinder starts to work. The packed materials are compressed and formed into various metal bales.
Metal scrap baling machine adopts hydraulic transmission, compact structure, convenient transfer, simple operation, easy maintenance, reliable sealing, and the bottom does not need to be fixed by screws during installation. Users can customize the specifications and sizes of metal briquettes according to your needs, which is convenient for transportation and storage. It is a good device to improve labor efficiency, reduce labor intensity, save manpower, and reduce transportation costs.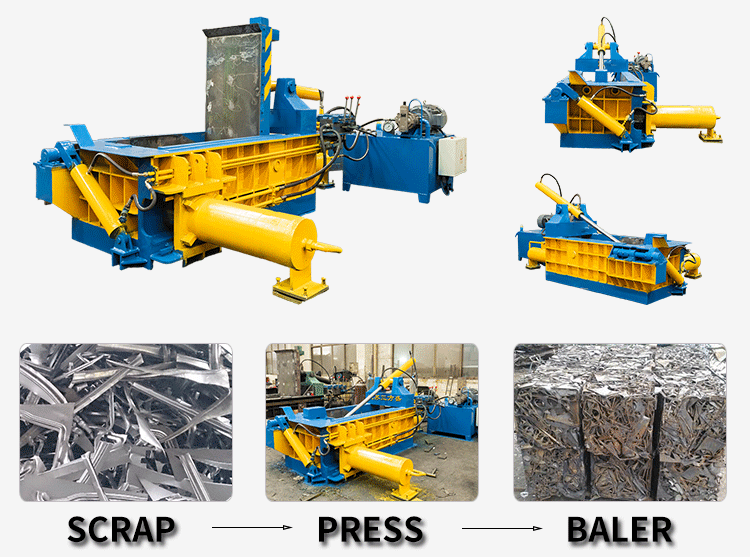 Metal Scrap Baling Press Mahine Features:
1. All of the metal scrap baling machine models choose hydraulic driving, it could choose manual operation or PLC operation.
2. Discharging of metal baling machine mode could choose Turn-out type, Forward-out type, Push-out type, and discharging by man-hand.
3. It isn't necessary to install with foundation bolt. If power isn't available, diesel engines of metal baling machine could be closed.
4. The Main cylinder extrusion force of scrap baling machine is from 100 tons to 1600 tons. Productivity of metal baler is from 4 tons to 40 tons each shift.
5. Press box size and bale size could be designed and made according to the customers' requirements for metal baler.
6. Hydraulic pump, valve, and electric parts choose Chinese famous brand.
7. Our hydraulic cylinder has passed through BV certification, they have a long lifetime.
All Scrap Baling Mahine Support Customization
Metal scrap baling machine models from 63 tons to 1600 tons, can meet the needs of different customers, in addition Di Hai Machinery supports customization: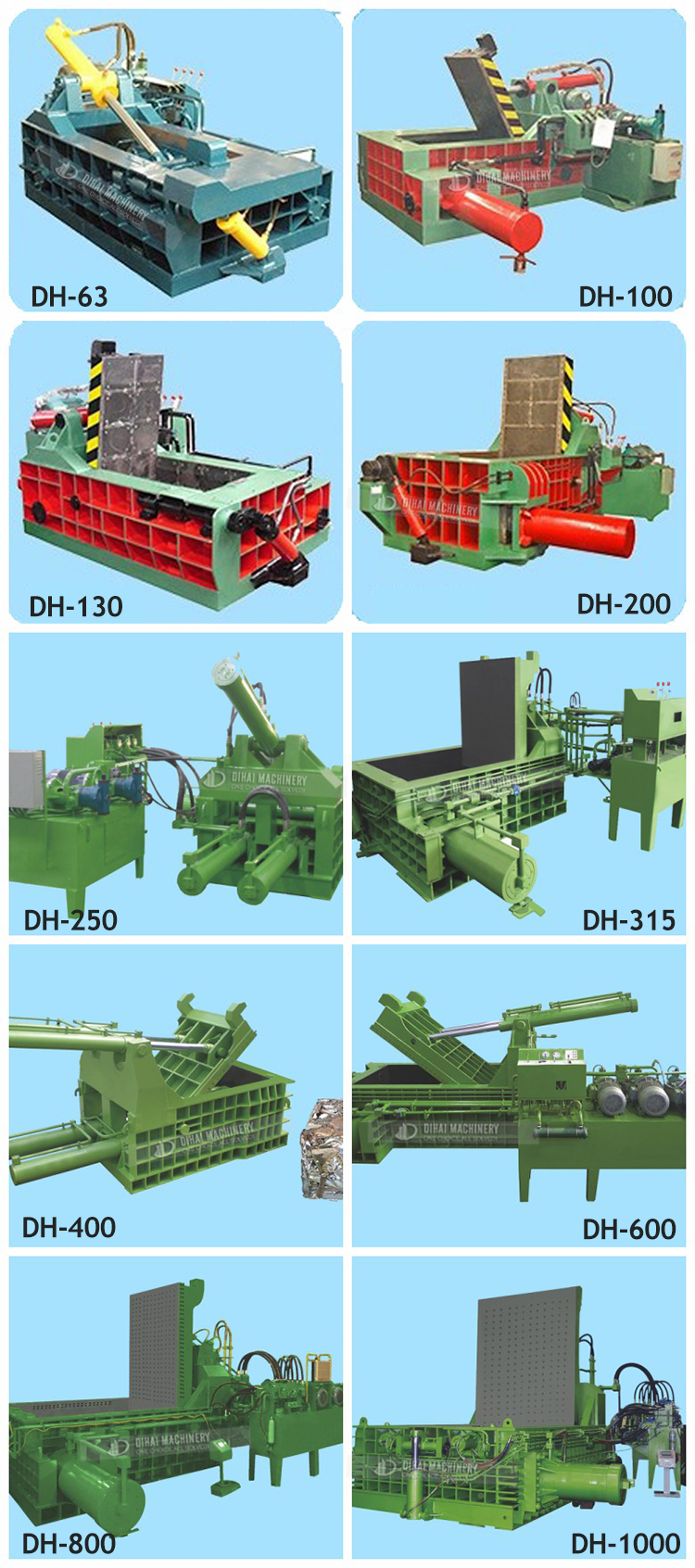 The metal scrap baling machine can squeeze all kinds of scrap metal scraps (steel shavings, scrap steel, scrap aluminum, scrap stainless steel, and scrap car scrap, etc.) into rectangular, octagonal, cylindrical, and other shapes. Not only can reduce transportation and smelting costs, but also increase the speed of the furnace. This series of balers is mainly used in steel plants, recycling processing industries and non-ferrous and ferrous metal smelting industries.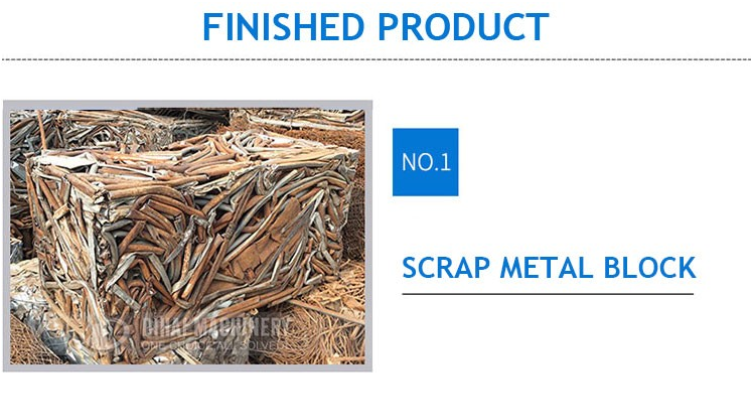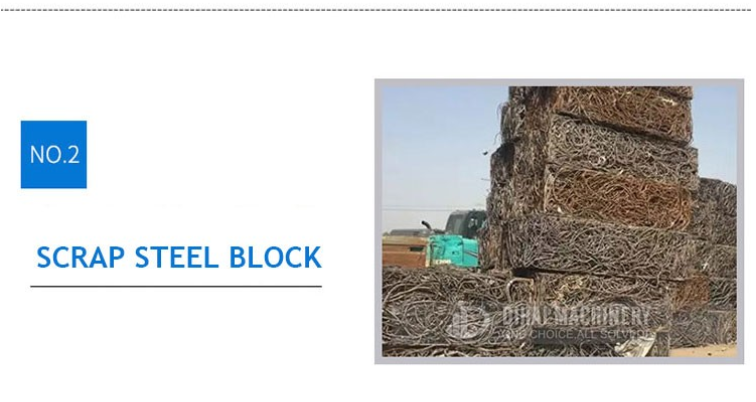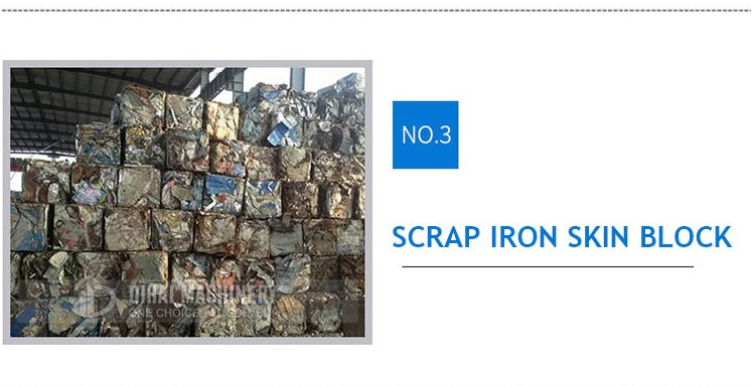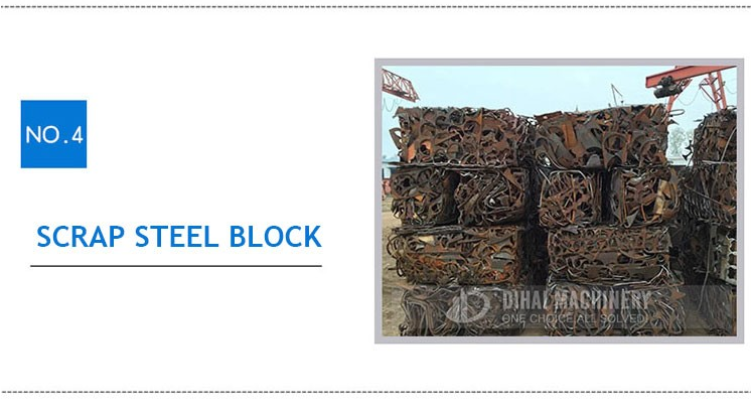 Quality of Scrap Baling Machine:
1. The product testing has quality records and testing data.
2. Product performance testing, there is a professional inspector, after the metal baler is confirmed to be qualified before shipment, we also support third-party inspection.
Price of
Scrap Baling Machine
:
1. In order to ensure the metal baler quality, all raw materials are strictly controlled.
2. Under the same competition conditions, our company will provide you with the factory wholesale price on the basis of not reducing the technical performance of the product and changing the product parts.
Delivery of
Scrap Baling Machine
:
1. Metal scrap baling machine delivery time: Usually 7 working days. If there are special requirements for metal baler, we try to meet them.
2. When the scrap baling press machine is delivered, our company provides the following documents to the user:
Metal Scrap Baling Machine Technical Maintenance Manual
Metal Scrap Baling Machine General Installation Drawing
Scrap Baling Machine Purchased Parts Manual
Provide wearing parts, spare parts list, and extra spare parts.
1. Purpose of service: fast, decisive, accurate,
2. Service target: Service quality wins customer satisfaction
3. Service efficiency: If the scrap baling machine fails during or after the warranty period, we will provide a solution within 12 hours after receiving the notification.
4. Service principle: The warranty period of metal baling press machine is one year. During the warranty period, the supplier will repair and replace the parts that are caused by quality for free, and the parts and components damaged outside the warranty period will only be charged for the costs.
More FAQ help you know more about scrap baling machine
What is metal scrap baling machine?
The scrap baling machine directly cold presses various metal wastes under high pressure, which is convenient for storage, transportation and recycling. The scrap baling machine can directly press the powdery granular cast iron chips, steel chips, copper chips, aluminum chips, high-quality mineral powder into cold blocks. The entire production process does not require heating, adding additives or other processes, and is directly cold-pressed. The molding also ensures that the original material is unchanged. For castings made of special materials, recycling is more significant.
What is the lack of pressure in the metal scrap baling machine?
In the process of using the scrap baling press machine, sometimes we will encounter the situation that the metal baling press machine is under no pressure. So, what should we do when we encounter this situation? Generally, this situation occurs, and most of them are hydraulic systems. The mostly reason as follows:
1. First check if the following preparations are done.
2. Whether the hydraulic valve is blocked or malfunctioning, so that the hydraulic valve cannot work normally.
3. The oil leakage of the hydraulic system is serious, it is necessary to check whether there is oil leakage in the hydraulic pipeline and hydraulic cylinder of the main machine of the metal scrap baling press machine.
4. The pressure gauge is faulty, the displayed pressure is not the actual system pressure.
What are the core components of scrap baling press machine?
Metal baling machine main cylinder (working cylinder) components: The main cylinder is the core component of the scrap baling machine. It consists of a main cylinder, a main plunger, a copper sleeve and a sealing device.
Understand the maintenance of scrap baling machine bearings
The scrap baling machine can help us sort out scattered metal materials very well, but for the use of the metal baling machine, only by regularly performing professional maintenance on the machine can make the scrap metal machine have a longer service life.
Many users of the metal chip briquette machine have not been maintained for a long time, and they did not know to repair it until a problem occurred. This not only greatly damages the performance of the machine but also reduces our production efficiency.
The maintenance of baling machine is mainly the maintenance of bearings. Many customers do not know how to clean and maintain the bearings of scrap baling machine. We should first open the rollers and remove the bearings. Use gasoline or kerosene cleaning the bearing, then the bearing is installed back and evenly coated with high temperature resistant grease, and finally the bearing cover is installed.
Open and clean it at regular intervals after use. This will not only extend the life of the scrap baling machine, but also improve your work efficiency.
If you have any suggestions or opinions about our products,please leave a message,and we will immediately answer your questions. Thanks for your support.